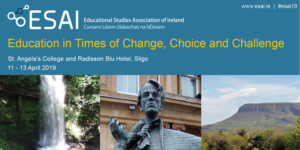 Please note that all presenting authors must be current Individual Members of ESAI (or in the case of a graduate student, a current Associate Member). If you are not currently a member and accept our invitation to present at ESAI Conference 2019, please use the relevant option below to take out membership as part of the Registration process.
If you would like to attend the Conference Dinner on the evening of Friday 12th April, at the Radisson Blu hotel, please purchase a ticket for same in addition to the relevant conference registration option.
Note: once you make your ticket selection below, you will be transferred to the Eventbrite website to complete the process.
Thank you to all who have already registered. We ask that all conference delegates be registered by Thursday 04th April at the latest. Printing of conference booklets and name badges will be based on the numbers and names of those registered at that time. Please note that there is no 'pay at the door' option for this year's conference and all delegates must register through the Eventbrite system.