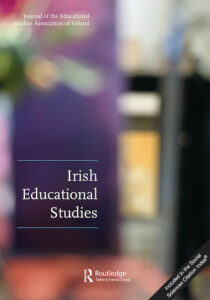 The Executive Committee of the Educational Studies of Ireland (ESAI) is pleased to announce the appointment of Dr. Tony Hall as the new General Editor of Irish Educational Studies, the official journal of ESAI. This appointment will commence on the first of September, 2020.
Dr. Hall is Senior Lecturer in Educational Technology and Deputy Head of the School of Education at NUI Galway. He has been a Co-Editor of Irish Educational Studies since 2015, has guest-edited multiple special issues for international journals (such as the International Journal of Mobile and Blended Learning and TechTrends), and was editor of the Education Matters Yearbook for three years. Tony serves on the editorial board of TechTrends and has published in and reviews for international journals in education, educational technology and design-based research. He is an elected Fellow of the International Society for Design and Development in Education (ISDDE), and has been expert evaluator for numerous EU transnational research projects across several domains. He is one of the founding Co-PIs of the T-REX (Teachers' Research Exchange) national project, which aims to engage teachers in, and with, research; and the European projects, DEIMP: Designing and Evaluating Innovative Mobile Pedagogies and BRIST: Building a Research Infrastructure for School Teachers. Tony has previously served as both Head of the School of Education and Vice-Dean for Learning, Teaching and Assessment in the College of Arts, Social Sciences and Celtic Studies at NUI Galway, and was formerly a secondary teacher.
Dr. Hall will be taking over from the current General Editors, Prof. Paul Conway and Dr. Aisling Leavy, when they step down at the end of August. The ESAI Executive wishes to express its profound gratitude to Dr. Leavy and Prof. Conway for their industry, dedication and commitment to Irish Educational Studies, and we thank them for their outstanding contributions to both the journal and the Association. 
We wish Dr. Hall well in his new role and look forward to working with him over the coming years.