Curriculum Studies special interest group led by Majella Dempsey (Maynooth University) with partners Anne Looney and Audrey Doyle (Dublin City University) Damian Murchan, (Trinity College, Dublin) and John O'Reilly (University of Limerick).
With this SIG we want to build understanding and to influence curriculum development though engaged dialogue. The focus is to look at curriculum origins, policy and practice. Inquiry into origins encourages us to consider where curricula come from. What are their intellectual, conceptual and empirical foundations? What are the past socio-political influences that shape their present conception and development? Inquiry into policy explores the development of competing and complementary ways of thinking about curriculum, their realisation through policy development, and the enactment of curricular practices in school, other educational institutions and non-formal educational settings. Inquiry into practices allows us to focus on a range of issues, including policy development processes, learning and teaching, assessment and organisational issues such as provision and access.
We look forward to working with a diverse group of people from across the curriculum landscape and to building networks across the globe. We will host a seminar in June 2020 to begin the conversation and to build our community of researchers in curriculum studies.
SIG Convenor: Majella Dempsey
Contact details: Email curriculumsig@mu.ie | Twitter @EsaiSig
---
SIG Events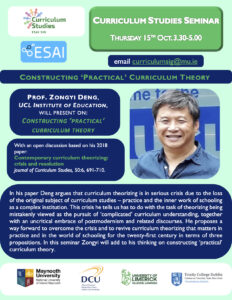 ---
 Final report: ESAI Curriculum Studies Special Interest Group
About Curriculum Studies SIG
Maynooth University in collaboration with colleagues in Dublin City University (DCU), University of Limerick (UL) and Trinity College Dublin (TCD)  was awarded funding from Educational Studies Association of Ireland (ESAI) to lead a Special Interest Group on Curriculum Studies in 2020. This SIG was set up at a time when the field was experiencing vibrancy here in Ireland and abroad and faced the challenge of coming together during a pandemic.
Curriculum Studies SIG Team
Dr Majella Dempsey MU – SIG Lead
Dr Audrey Doyle DCU
Professor Anne Looney DCU
Professor Damian Murchan TCD
Dr John O'Reilly UL
Professor Zongyi Deng from UCL, Institute of Education – Constructing 'practical' curriculum theory.
We opened our SIG events with a seminar on "Constructing 'practical' curriculum theory"  with Professor Zongyi Deng from UCL, Institute of Education, on 15th October 2020.
In his presentation, Professor Deng argued that curriculum theorising is in serious crisis due to the loss of the original subject of curriculum studies, practice and the inner work of schooling as a complex institution. This crisis has to do with the task of theorising being mistakenly viewed as the pursuit of 'complicated' curriculum understanding, together with an uncritical embrace of postmodernism and related discourses. He proposed a way forward to overcome the crisis and to revive curriculum theorising that matters in practice and in the world of schooling for the twenty-first century in terms of three propositions.
He concluded that to produce powerful professional educational knowledge that can have an impact on practice and contribute the advancement of education, Education needs to be positioned as a distinctive discipline in its own right. This discipline is centrally concerned with issues pertaining to practice and the actual world of education and schooling, with a profound vision of what education should be.
Dr Nienke Nieveen, University of Twente, The Netherlands – Teacher Design Teams and Curriculum Design Capacities
Our second seminar with Dr Nienke Nieveen on the 8th of April 2021 moved our discussions into what happens with curriculum in schools. Dr Nieveen discussed teacher professional learning in relation to curriculum (re) design in schools, educational design research and curriculum design approaches and tools. In this seminar attended by over 200 people from across the world we discussed two questions:
How can we characterise the complexity of curriculum design tasks of teacher design teams?
What are the key curriculum design capacities in order to perform these tasks in a successful way?
Looking forward – ESAI Curriculum Studies Special Interest Group
The next seminar planned for October will be with Professor Mark Priestley from Stirling University in Scotland, and will look at curriculum making across different levels.  We also have plans to engage with the area of assessment and explore how assessment design and implementation is challenged not only by the pedagogical theory that underpins a curriculum, the different national and international policy influences but also how the opposing purposes of assessment impacts on the work of a teacher.
It was challenging to set up a new special interest group during the pandemic and it meant we did not get to meet face to face and progress the work as we had planned. However, the use of on-line seminars has brought together a very large group of people interested in discussing curriculum. The work in this group will continue with events planned for the coming year.